Reviewing the Horizon Scan: Selecting the Techethos Technology Portfolio

Authored by: Eva Buchinger, Manuela Kienegger, Michael J. Bernstein, Austrian Institute of Technology; Andrea Porcari, Airi – Italian Association for Industrial Research
Reviewed by: Andrew Whittington-Davis and Nualo Polo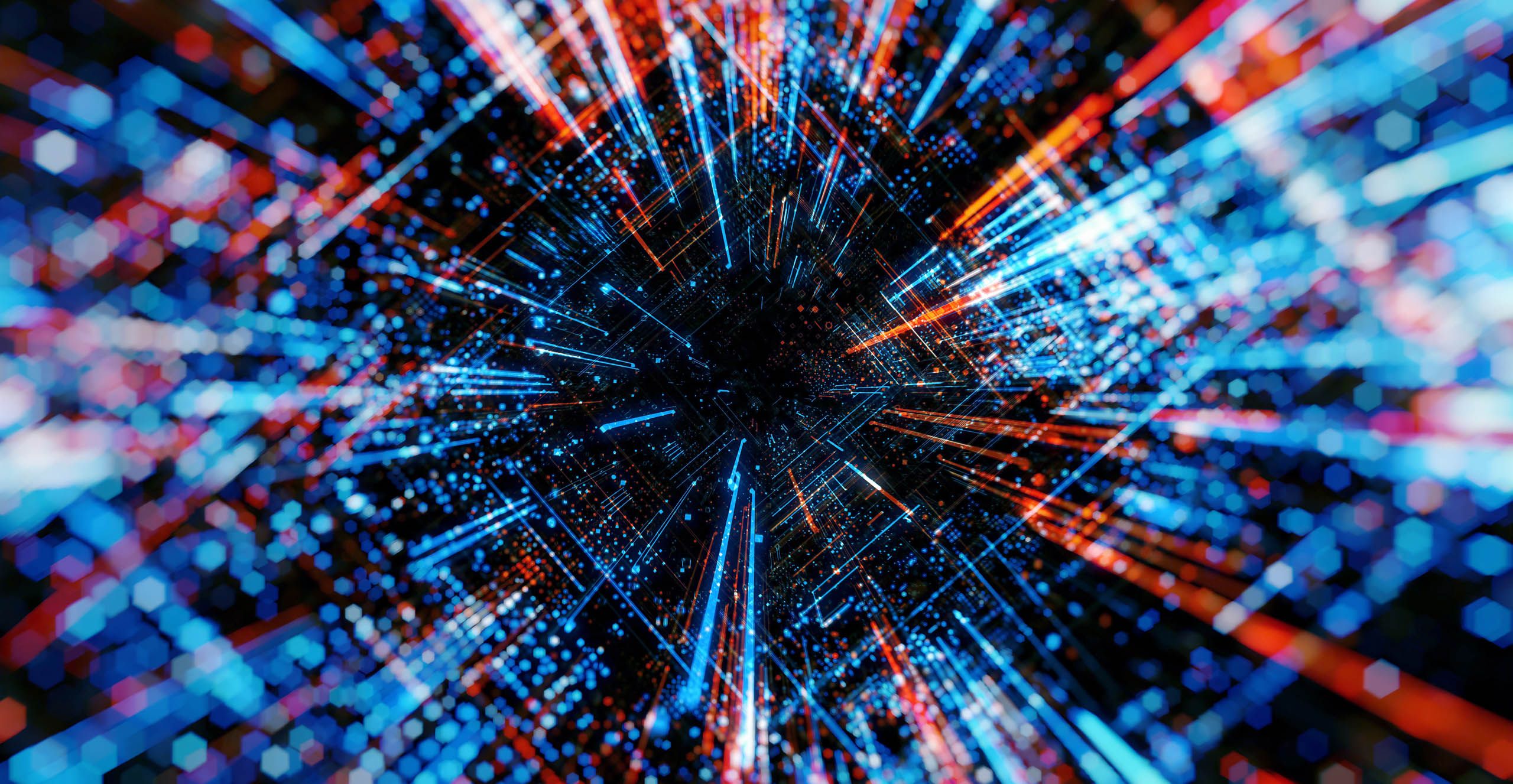 How we arrived at our portfolio of TechEthos technology families
In our recent article, we were excited to share the three potentially disruptive technologies with high socio-economic and ethical implications that have been chosen as the focus for the TechEthos project. Going forward, the TechEthos project will explore ways to develop ethics-by-design guidelines for these technology families in conversation with expert stakeholders, researchers, innovators, and members of the public. In this post, we present more detail on the methodology used to select these technologies – the horizon scan.
Horizon scan refers to the act of seeking out diverse sources of information about the short, medium, or long-term research, innovation, social, political, and economic developments. Our TechEthos horizon scan set out with the clear goal of developing a portfolio of three technology families. Specifically, we sought to identify potentially high socio-economic and ethically impactful technologies according to the following five impact assessment criteria selected by the project team:
 Industrial and economic impact: the extent to which technologies enable novel applications with potentially significant impact on industry/economy.
 Ethics impact: the extent to which technologies enhance or undermine fundamental societal principles and values (e.g., human rights).
 Public impact: the extent to which technologies enable novel applications with potentially significant impact on the life of people and on broader societal trends.
 Policy impact: the extent to which technologies are prioritised by policymakers at the regional, national, and international level.
 Legal impact: the extent to which technologies challenge existing legal frameworks.
The Process
Using these criteriums as a guide, our horizon scan involved three selection steps to successively locate and refine technology families to form the basis of our TechEthos portfolio (see image below).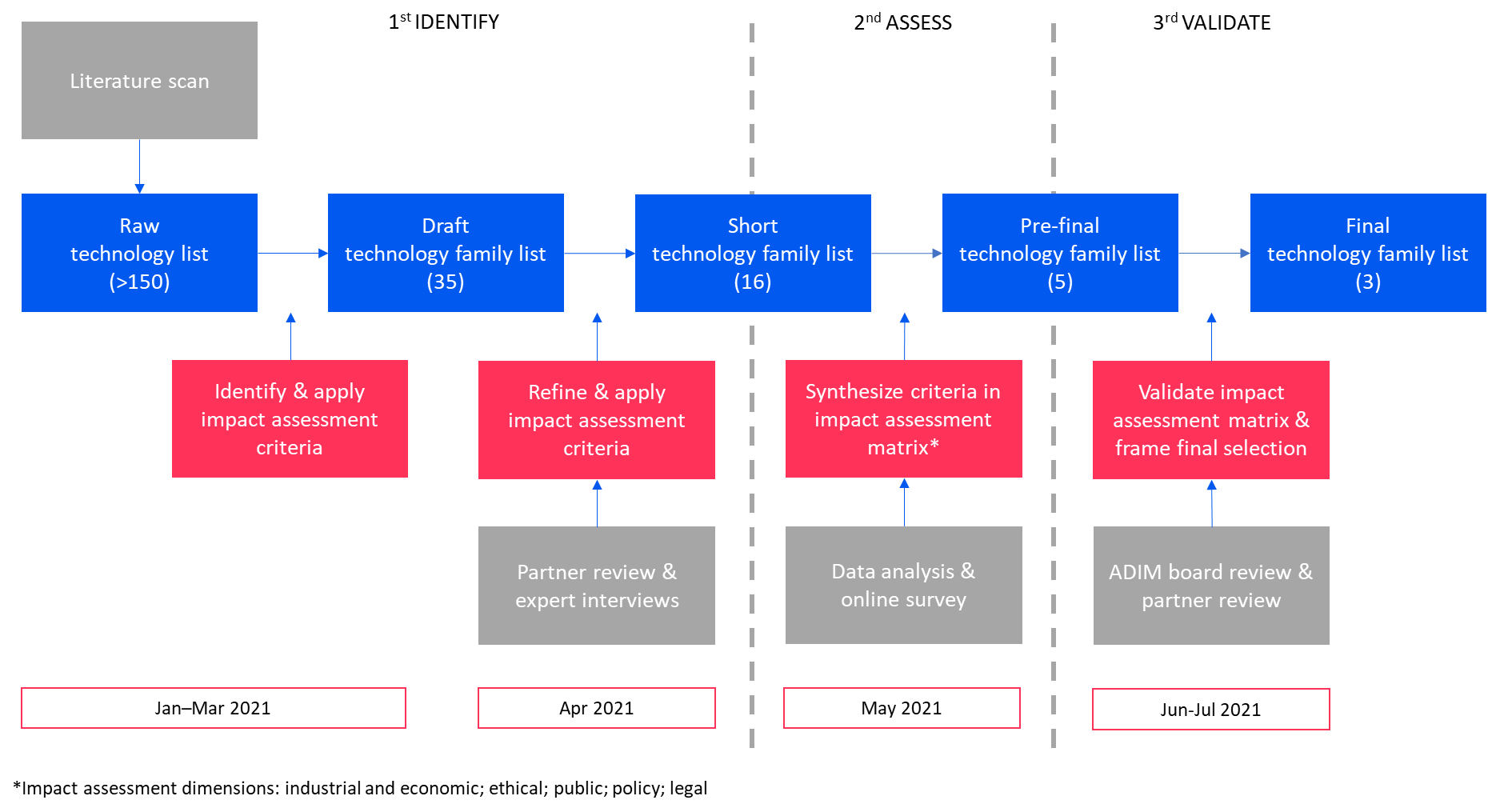 First, we cast a wide net in a desk-based document analysis to identify approximately 150 promising technology families. Our research team reviewed over 100 documents including authoritative technology assessments by governments, research organisations, think tanks, business organisations, and other key researcher and innovation actors. Through a series of iterative internal deliberations with our team of technical and social scientific experts—reviewing the impact assessment criteria above—we created a short-list of 16 technology families with high socio-economic impact.
In the second stage of the horizon scan, we reached out to external technical and social scientific experts through a survey and conducted an analysis of patent and industry involvement in technology familyA technology family is a collection of technologies that share techniques that have common goals [...] developments as indicators for industrial and economic impact. The survey drew upon research on the industrial research and development (R&D) strength (total number and year-over-year growth of patents) and prominence of each technology in EU R&D policy (number of EU projects funded and year-over-year growth in the number of projects funded). The online survey was designed to gather opinions of external experts representing various stakeholderIn TechEthos, we invite different stakeholder to join our Advisory and Impact Board [...] groups (such as academic & industrial researchers, ethics bodies, policymakers, funding organizations).  Feedback from the 77 survey respondents largely certified the 16 technology families as having a high to very high social, economic and ethical impact and was used to prioritise them.
In the third and final stage of selection, we combined internal and external expertise to discuss a pre-selected set of five technology families. Our preselection resulted from a review of all the data acquired in light of our project goal: to generate ethical guidelinesEthical guidelines collect general or specific principles [...] More for high-impact social and economic technology families.
Taking the resulting five pre-selected technologies (Environmental and climate, Data processing, Cognitive technologies, Artificial human & neurotechnologies, and Mobility technologies) we conducted a participatory workshop with project members, advisory board members, and external experts to arrive at our final selection. During the workshop, through a series of 'World Cafe' rounds, we refined the pre-selected technology families by discussing:
 The granularity of the technology family (specific enough? too broad?)
 Different reasons why a particular refinement of the technology family would be suitable for the TechEthos project (i.e., if the revised composition or definition of the technology family would enhance its viability as subject of subsequent research by the project).
In the final portion of the selection workshop, participants identified three technology families. Each participant was first asked to come up with a combination of technology families of their own, and then add, combine and later vote on other possible portfolios. Participants justified their selections and votes according to the criteria:
 European commission interest/ political priorities;
 Potential TechEthos added value;
 Scientific/intellectual interest;
 Time horizon (short to long term with at least one specific technology within the family close to the market).
In the days following the workshop, the project team met to synthesise the workshop outcomes and to propose the set of high socio-economic impact technology families.
The result
Going forward, TechEthos will focus and explore technologies interacting with the planet, the digital world, and the human body. Specifically, TechEthos will develop ethics guidelines and supportive materials for climate engineeringTechEthos defines climate engineering as a technology family which enables the modification of natural processes [...] More technologies, digital extended reality technologies, and neurotechnologies .
For further reading on the Horizon Scan methodology, please visit our resource on the assessment and final selection of technologies.
To learn more about TechEthos follow the project on Twitter and LinkedIn,  and sign up to the project newsletter. By joining the online community, you will be first in line to discover the technologies the project selects as the focus of its work and contribute to shaping the technologies of the future.