Navigating Ethical Horizons: Insights from TechEthos Policy Event
Authored by: Giuseppe Loveno Garofalo 
Reviewed by: Greta Alliaj and Clara Boissenin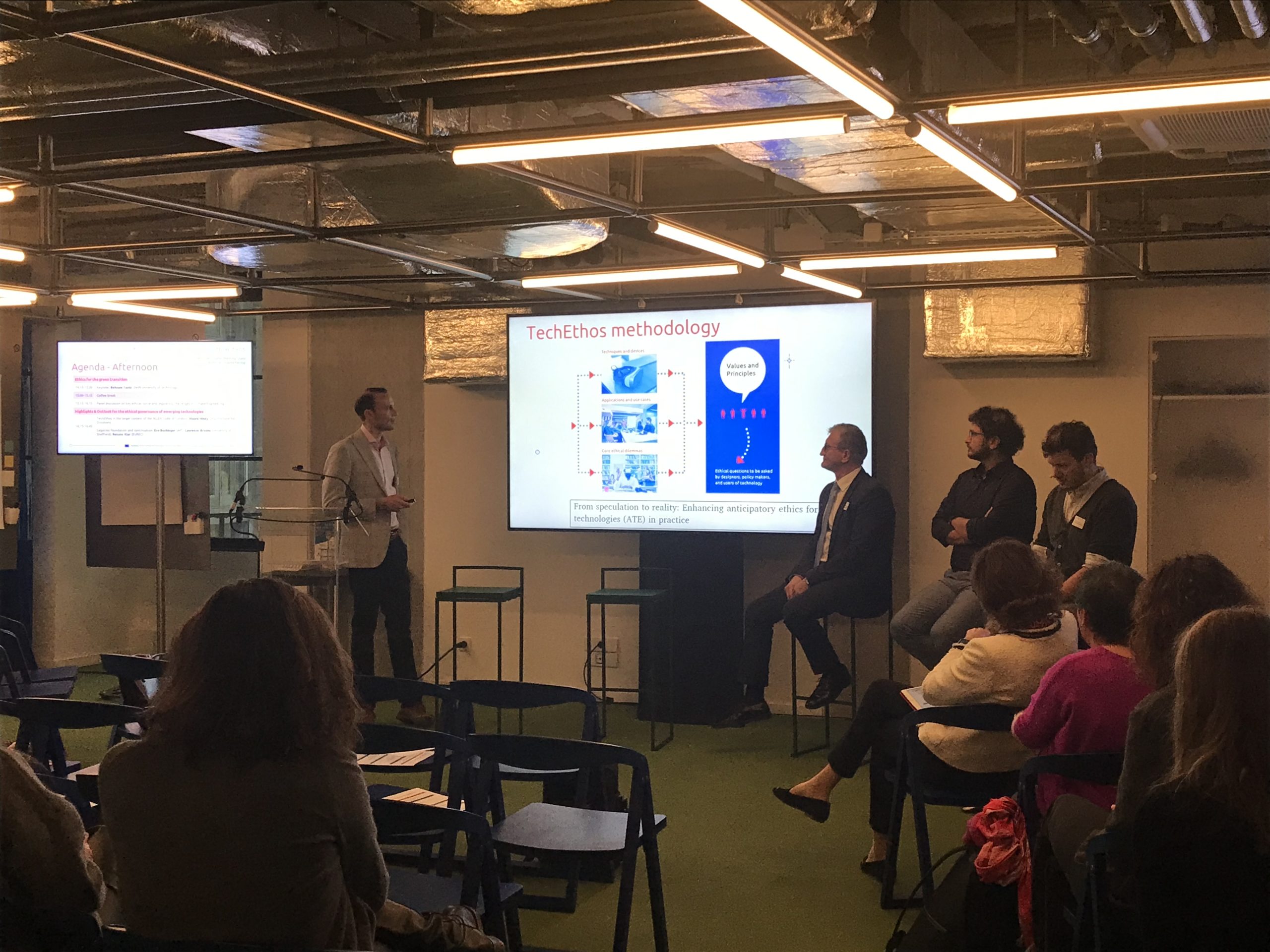 The TechEthos Policy Event held in Brussels on 14 November 2023 brought together high-level experts, including EU policymakers, researchers from academia, and industry representatives to discuss the ethical governance of emerging technologies in the digital transformation and green transition. The event was moderated by science journalist and broadcaster Vivienne Parry and drew over 60 on-site and 24 virtual participants. With the mission to discuss the ethical implications of emerging technologies, it kicked off with the opening remarks of policy analyst Mihalis Kritikos (DG RTD) emphasizing the evolution of tech-related EU policies and the need of a just transition. Next, TechEthos coordinator, Eva Buchinger (AIT) illustrated the TechEthos vision and Ethics by Design approach.
Ethics for the Digital Transformation
The morning session delved into ethical considerations for Digital Transformation, with Laura Weidinger, Senior Research Scientist at DeepMind setting the scene for an insightful panel discussion. Highlighting AI Safety, especially Generative AI, during her keynote speech, Weidinger stressed:
The need for a sociotechnical approach in AI development which recognises potential repercussions of algorithms on individuals. To reach sociotechnical safety, developers must assess AI capability, human interaction,

and potential side-effects after full deployment;

EU's AI Act should proactively advocate for a balanced distribution of responsibility, emphasizing foresight and pre-market testing implementation.
The session extended to explore ethical, social, and regulatory challenges of Digital Extended Reality through a dynamic panel discussion featuring Laura Weidinger, Alexei Grinbaum (CEA), Kevin MacNish (SOPRA STERIA), Alina Kadlubsky (Open AR Cloud Europe) and Ivan Yamshchikov (CAIRO). Key topics included:
Challenges in implementing Ethics by Design in XR applications. The creation of digital 'twins' via XR often produces static representations that may not capture the dynamic real-world evolution. Also, the integration of AI, visualization, and biometric data in human-machine interactions adds complexity, presenting ethical challenges in XR design and implementation;
Potential certification for development companies conducting impact assessments for their XR models;
Ethical concerns related to who shapes AI companions and their actions – raising debates over accountability;
The challenge of conceptual disentanglement in interactions between humans and AI companions, especially those with human-like attributes. These evolving relationships are understudied but may become a crucial focus in the future;
The absence of a one-size-fits-all rule complicates the implementation of the Ethics by Design approach.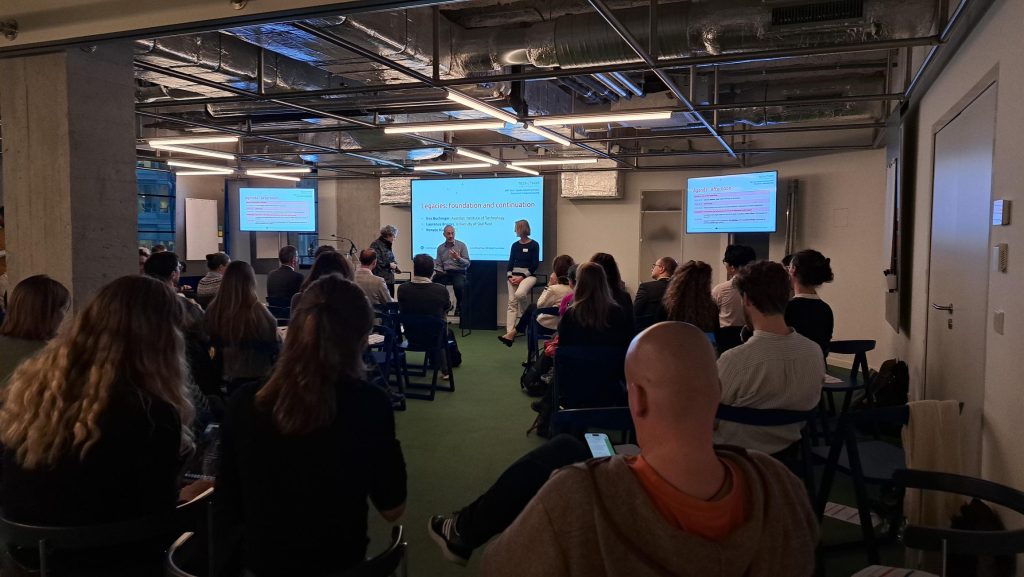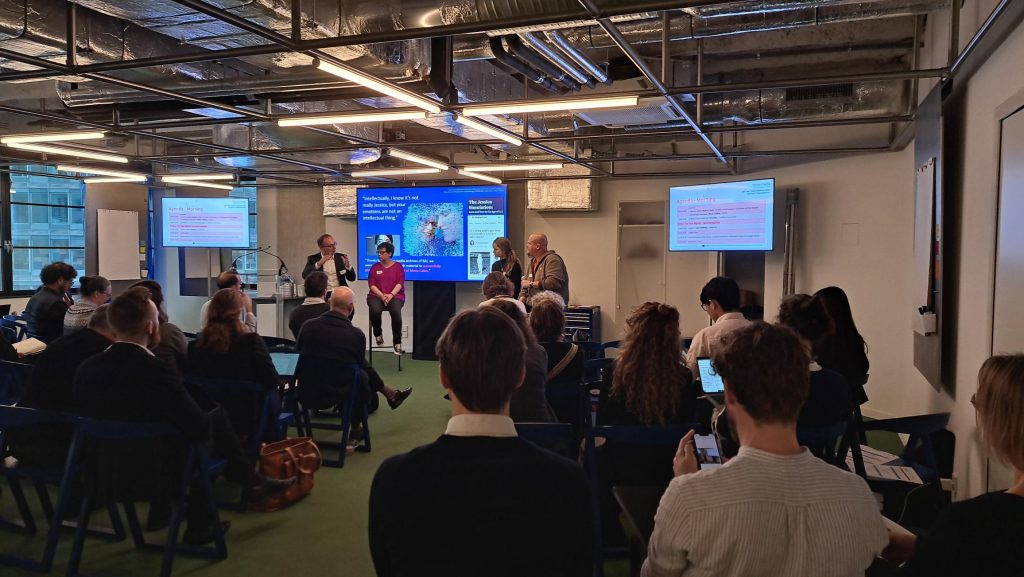 Ethics for the Green Transition
In the afternoon session, Behnam Taebi, full Professor of Energy & Climate Ethics at Delft University of Technology addressed the urgent need for achieving net-zero by 2050, exploring the ethical controversies surrounding climate engineering techniques such as Solar Radiation Management (SRM) and Carbon Dioxide Removal (CDR). Key takeaways included:
SRM offers substantial benefits in reducing the pace of temperature and sea level rise, but its impact on ozone depletion, drought, health, and agriculture remains unknown;
Advocacy for a "risk vs. risk" approach, weighing the risks of implementing climate engineering against the risks of not taking any action;
Recognition of the need for private funding to address climate challenges while emphasizing the importance of business models that transcend profit-centric approaches.
The keynote speech was followed by a panel discussion on the ethical, social, and regulatory challenges featuring Behnam Taebi, Dominic Lenzi (University of Twente), Dušan Chrenek (DG CLIMATE ACTION), and Matthias Honegger (Perspectives Climate Research). Key points discussed encompassed:
The need for a global collaboration for SRM research which incorporates principles of global justice, human rights protection, and legitimacy;
The necessity for effective and legitimate governance of research;
Warning about potential overreliance on the CDR technology – which might hinder emissions reduction efforts;

The need to clarify how CDR can be implemented in accordance with

the EU principles, the biodiversity strategy 2030, and the

UNFCCC's principle of common but differentiated responsibilities and respective capabilities;

The necessity to scrutinize the role of fossil fuel industry in CDR deployment.
Conclusion
The conference ended with some final words from Maura Hiney (UCD Institute for Discovery), who contextualised the TechEthos project within the ALLEA Code of Conduct – a high-level framework for achieving high-quality, trustworthy, and responsible research. Finally, Eva Buchinger, Laurence Brooks (University of Sheffield), and Renate Klar (EUREC) provided some context concerning the project – seen as a continuation of previous projects and a foundation for future research on the ethics of emerging technologies.
The TechEthos Policy Event attempted to explore the ethical implications of the digital transformation and green transition, unravelling challenges that define our technological future. In the convergence of innovation and moral responsibility, a clear call emerges for global discourse. It is in these considerations that we shape ethical frameworks, ensuring that technology serves humanity with integrity. The echoes of the discussions held should resonate, urging us to collectively navigate the ethical landscapes that lie ahead.
Do you want to find out more? Take a look at the videos of the event on our YouTube Channel!